Dr. Stacey Neilson
B.Sc., N.D.
Naturopathic Doctor

Dr. Stacey Neilson holds a Double Advanced Major in Biology & Neuroscience from Dalhousie University; as well, a Doctor of Naturopathic Medicine degree from the Canadian College of Naturopathic Medicine. Dr. Neilson is certified in IV Therapy and Chelation Therapy, advanced injection therapies including Prolotherapy and PRP, Neural Therapy, Perineural Therapy and holds prescriptive authority in the province of BC. She has additional education and training in Naturopathic Supportive Cancer Care, and she is certified in Acupuncture.
Dr. Neilson has a great passion for helping others improve their health through Science based Natural Medicine. She enjoys sharing her excitement and belief in the power of a person's capacity to be and remain healthy when given the right tools.
Her goal as a Naturopathic Doctor is to understand you, the patient and all the factors that affect your health. Treatment is highly individualized and focused on the underlying causes of illness and imbalance using natural medicines and therapies to create an environment for your body to heal.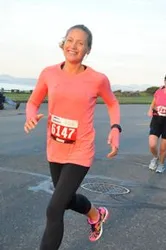 Dr. Neilson's Naturopathic practice includes clinical nutrition, vitamin injections, homeopathy, acupuncture, botanical medicine, detoxification and specialized testing. She can provide testing for food sensitivities, hormones, toxic heavy metals, digestive analysis as well as vitamin deficiencies and standard blood work. Dr. Neilson also provides injection therapies for pain and injury including neural therapy, perineural therapy, prolotherapy and PRP. Some injections include homeopathic medicines which are dilute natural products for pain and inflammation, sports injuries, arthritis and muscular problems. IV therapies include vitamin and mineral IV's," high-dose vitamin C and chelation therapy for heart disease and detoxification.
Dr. Neilson is a mother of three and an actively training athlete. Her practice is a family practice welcoming all ages and health conditions. Any and all wellness and medical conditions can benefit from Naturopathic Medicine; for example, stress, fatigue, anxiety, depression, hormone imbalances, digestive disturbances, pain, allergies and the list goes on.
Dr. Neilson is very grateful for her life. She considers it a privilege to practice Naturopathic medicine. In addition to helping others improve their health and well-being she also manages to find the time and energy to live an active life with her three amazing daughters, her ongoing training in triathlon as well as yoga, dance, alpine and Nordic skiing, camping and outdoor pursuits. She lives each day to the fullest on beautiful Vancouver Island!
---