Dr. Stacey Scott
D.C. (Hon), F.R.C.C.S.S. (C)*
Doctor of Chiropractic
*Board Certified in Sports Injury and Rehabilitation

Dr. Stacey Scott is a chiropractor and owner of a very successful private practice, which she founded in 1994 in Nanaimo, British Columbia. Dr. Scott graduated with both academic and clinical honors. Upon graduation she continued to study kinesiology, psychology, nutrition and sports nutrition. She also completed part one and part two of the American Team Physicians course. In 1996 she received her fellowship in Sports Injury and Rehabilitation*. This four year program deems her a sports specialist by the Canadian Chiropractic Association. In 2004 Dr. Scott became a certified provider of Active Release Therapy (A.R.T.).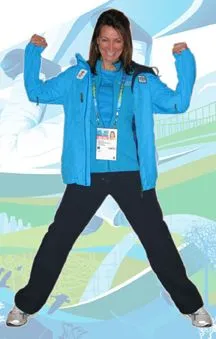 Dr. Scott was a member of the Canadian Olympic Health Care Team during the 2010 Olympics in Vancouver/Whistler BC, which in her words was, "the experience of a lifetime! Working with fellow professionals and athletes from around the world was everything I imagined and more. One couldn't ask for a better opportunity!" In fact, the Canadian Memorial Chiropractic College did a feature on Dr. Scott and fellow colleague Dr. Liza Grant in their issue of "Primary Contact", of which the excerpt can be found HERE.

Dr. Scott is an official SportHealth partner of PacificSport (Vancouver Island) in affiliation with world class, champion athletes! For those not in the know, PacificSport helps Canada win medals by delivering sport performance programs and services to provide athletes and coaches living in BC with every advantage to win medals for Canada. To that end, Dr. Scott's clinic is now equipped to provide high performance sports testing and assessment for athletes. Additionally, Dr. Scott has been a past member of the Sports Medicine Staff involved with the UCI BMX World Championships, the Victoria International Marathon, the Professional World Cup of Track Cycling and the Vancouver Sun Run. She has also been a member of the Canadian Memorial Chiropractic College's Student Interview Committee, interviewing potential candidates for admission to CMCC's program.

Dr. Scott's approach to treatment focuses on the biomechanics of the body and the principle that optimal joint function is based on proper soft tissue function and vice versa. She has found her enhanced training to complement her chiropractic approach, especially for long standing or repetitive strain injuries where joint, muscle or other soft tissue involvement is present. Emphasis is also placed on rehabilitation to improve strength, flexibility and mobility. Dr. Scott is passionate about chiropractic and is dedicated to effectively and efficiently treating the specific causes and symptoms of each patient's conditions.

Personally, Dr. Scott is an exercise enthusiast, completing her first marathon in 1999. She understands that complete health encompasses a healthy mind, healthy diet and a regular exercise program. She lives what she believes. To that end, she guides and encourages her patients to incorporate this formula into their daily lives.
For a detailed CV of Dr. Scott's accomplishments please CLICK HERE.

---

Dr. Derek Brown

D.C.
Doctor of Chiropractic

Dr. Derek Brown was born and raised in Nanaimo British Columbia where he participated in a wide range of youth sports including soccer, baseball, tennis, and hockey. His hockey career culminated with 3-years as starting goaltender for the Oceanside Generals Jr. B Hockey Club. Dr. Brown went on to spend 5-years studying Kinesiology between Vancouver Island University and the University of Victoria, and a further 4 years earning his Doctor of Chiropractic designation from the Canadian Memorial Chiropractic College.

A multidisciplinary approach to care is best able to meet the varying needs of the modern patient, and Dr. Brown is happy to be a part of such a team at Woodgrove Pines Clinic. His personal approach includes addressing muscle tension with various hands-on soft tissue therapies, adjusting to restore normal joint mobility where appropriate, and providing personalized exercise and stretching recommendations to help maintain the benefits of the treatment. Dr. Brown firmly believes that Chiropractic care is the ideal approach to maintain the musculoskeletal integrity of the body, and to allow individuals to get out and enjoy their active island lifestyles.

Dr. Brown is currently planting deep roots in Nanaimo alongside his wife and daughters. He remains an avid sport and outdoor enthusiast, and is actively involved in the local hockey scene. Dr. Brown could not be more excited to now be giving back to the community that has provided him with so much.

---

Dr. Robert P. Gagnon

D.C.
Doctor of Chiropractic

Philosophy on Health:

I quote Thomas Edison who said "The doctor of the future will give no medicine but will instruct his patients in the care of the human frame, in diet and in the cause and prevention of disease". The human body has the innate and extraordinary capacity to remain healthy or regain health if it is compromised, but it takes the patient's ongoing commitment to a healthy lifestyle which includes diet, exercise, rest and proper mental attitude. Most importantly, the nervous system and body have to function at peak potential. This is where chiropractic care is essential for the following reasons:

The spine acts as movable protective armor for the delicate spinal cord. The spinal cord is like a nerve superhighway full of information flowing between the brain and the body;

A VERTEBRAL SUBLUXATION is a dysfunctional area in the spine that negatively affects health and wellbeing due to its influence on the nervous system; and
The Chiropractic Adjustment corrects this dysfunction in order to restore healthy function of the spine and nervous system. This in turn enables the body to function at its optimal potential and greatest expression of health.

Education and Credentials:

Doctor of Chiropractic from the Canadian Memorial Chiropractic College;
My clinical focus is general practice with over 40 years of clinical experience. I have always been committed to remain current in education, research, technology and practice advancements;
Certification in Neuromechanical IQ Impulse instrument adjusting technique in both spinal and extremity modules;
Certification in Activator instrument adjusting technique;
Certification in diagnosis and clinical management of Whiplash Associated Disorder; and
40 plus years of ongoing continuing education including, but not limited to, the following: Current Research, Chiropractic Philosophy from many of the leaders of our profession, Chiropractic Biophysics, Pediatrics, The Vital Child, X-ray, CT and MRI Imaging, Orthotics, Rotator Cuff and Thoracic Outlet Syndrome, Medical Legal report preparation for Whiplash Associated Disorder, Evidenced-Based Chiropractic and Lifestyle for Recovery, Wellness and Prevention, Eat Well: The Science, Paradigm, and Clinical Application of Wellness Nutritional Protocols.

---

Dr. Marino Best

D.C. Doctor of Chiropractic

Dr. Marino Best was born and raised in Nanaimo, BC where he spent the majority of his years playing lacrosse for the Nanaimo Timbermen. He finished his box lacrosse career after graduating from Junior A lacrosse and then switched over to field lacrosse, which he played for 4 years in Milwaukee, Wisconsin on a lacrosse scholarship.

During his years playing college lacrosse Dr. Best received his Bachelor of Science in Athletic Therapy graduating with honors, and was named to the schools all decade team for his achievements on the field. Dr. Best then went on to receive his Doctor of Chiropractic with honors from Northwestern Health Sciences University in Minneapolis, Minnesota. After graduating he practiced in Minneapolis until joining the team at Woodgrove Pines Wellness Clinic.

Dr. Best utilizes a patient centered approach using a combination of chiropractic adjustments, soft tissue therapy and corrective exercises to not only help patients get out of pain, but help them stay out of it. He uses a variety of adjusting styles to help meet each patients needs and preference. In his free time Dr. Best enjoys golfing, fishing, hiking and staying active in the gym.

Please welcome Dr. Best to our clinic!

---

Dr. Clare Lindon

B.Sc.(Hon) D.C.
Doctor of Chiropractic

Dr. Clare Lindon obtained her Doctor of Chiropractic degree from the Canadian Memorial Chiropractic College in Toronto, Ontario, where she graduated Magna Cum Laude. She was the recipient of several awards upon graduation, including the CMCC President's Award and the Board of Governors' Chair Award. She also holds a Bachelor of Science degree in Human Kinetics from the University of Ottawa. Intending to pursue a career in healthcare from a young age, Dr. Lindon chose to follow a path towards chiropractic after falling in love with the profession's ability to connect with patients and to involve them in optimizing their health.

Dr. Lindon strives to help her patients become active participants in their care by incorporating education and personalized goal setting into her treatments. She believes that an evidence-based approach to chiropractic care including the use of spinal adjustments, soft tissue therapies, and rehabilitative exercises will enhance her patients' wellbeing. Dr. Lindon has a special interest in caring for pregnant and pediatric patients. Of special note, she is also Webster certified (a specific chiropractic sacral analysis and diversified adjustment for all weight-bearing individuals).

In her free time, she is looking forward to settling into the Nanaimo community and keeping active with all the year-round outdoor activities that Nanaimo and Vancouver Island have to offer.

Please join us in welcoming Dr. Lindon to our clinic!