Madeline Warren
R.Ac.
Registered Acupuncturist
Madeline Warren is a professionally trained Acupuncturist, in good standing with the College of Traditional Chinese Medicine Practitioners & Acupuncturists of British Columbia.
Madeline is excited to move to Nanaimo and to build her practice where she can share her long-standing affinity for health and wellness. Her passion for holistic medicine led her to Victoria where she began a curative career path that resulted in the completion of her 250-hour yoga teacher training.
After personally experiencing the therapeutic effects of Acupuncture and Traditional Chinese Medicine firsthand, she began her studies to complete her Diploma of Acupuncture at Pacific Rim College. During her studies, Madeline experienced tremendous personal healing from Traditional Chinese Medicine and discovered her own passion for relaying this medicine in service to those in need of relief from physical, mental and emotional pain. Furthermore, she hopes to foster wellness and healing among her patients through a gentle, holistic approach in the improvement of one's health.
Madeline also has a special interest in helping Seniors with Acupuncture. Learn how by CLICKING HERE!
Madeline's approach is unique to the patient's individual experience, and she endeavours to work in partnership with her clients to provide complementary and preventative medicine. Madeline looks forward to meeting you!
Call (250) 390-2003 to book your appointment.
---
.
Cameron Wallace
R.Ac.
Registered Acupuncturist

Cameron Wallace is a registered Acupuncturist with the College of Traditional Chinese Medicine Practitioners & Acupuncturists of British Columbia. He graduated from Reeves college in Edmonton AB, then transferred his registration back home to BC.

Cameron believes that the healing process can begin with one simple step. There are three main areas in ones life to think about when you think about health. Diet, exercise, and body work. It is good to incorporate a balance in all these aspects of life. You need to eat, you need to move, and along the way an injury or aliment can arise. Its not just about getting acupuncture when you are stricken with an ailment. Acupuncture and recommendations on diet and exercise are great ways to prevent the ailment from happening in the first place.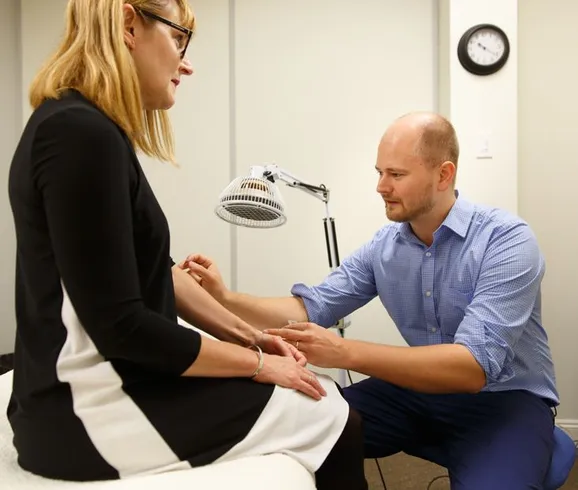 Cameron's favourite condition to work on is pain! He likes leaving clients at the end of a treatment feeling relaxed, healed and ready to enjoy their day.
Acupuncture is an amazing tool for healing. Acupuncture is more then just needles. We have several tools in our tool box so to speak!
As an acupuncturist I enjoy incorporating these tools into treatments. Some modalities you may have herd of, and some you might not have.
Using my knowledge behind Traditional Chinese Medicine I can treat a wide variety of conditions.
My main area of focus is on sports related injuries, lower back pain, upper back pain, neck, shoulders, hip, knee, and sciatica.
There are many conditions that i enjoy helping clients with, so feel free to call and see how acupuncture can help you.
--- Cameron Wallace R.Ac.

Cameron looks forward to meeting you! Call (250) 390-2003 to book an appointment or feel free to simply drop by the clinic.